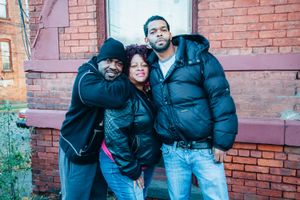 The people you're talking to right now? We call ourselves "5th Avenue's Finest." We all grew up together, and we're still here. We can tell you all the bad and the good about this town.
I don't like how the kids fight up here. We really got nothing out here for the kids, like the boys club we had. They need sports clubs, boxing clubs... Even something like electronics, games, computer, technology—that's the only thing that will keep kids out of trouble. They need all that. But little kids out here don't have those avenues. And it's so expensive to get in. Honestly, what kind of parent has the kind of money you need to keep those kids in there? How are they gonna keep kids out of trouble? I know as times change, the economy changes but what about the kids? You gotta give them something to do! They got nothing to do except run around out here.
There's nothing left of Troy. They take care of the downtown area, but not up here. You can probably see the difference. They treat it all nice... painted it all up. But up here? It's… well, it is what it is. They're taking things down instead of putting things up and giving back to the community. There used to be buildings, but they're knocking them down. It used to be so beautiful.
Now it's quiet. We had a lot of things, but now there are just empty spaces. We used to play football with the kids in the lots. My house burned down, so we moved down the street. My uncle owned this house behind me. My grandmother lived in the second floor, my uncle in the first. There used to be a store over here: Tony's… and the people who owned it still lived on the block!
When I was a kid, we had things, but now… it's gone. It's all downtown.