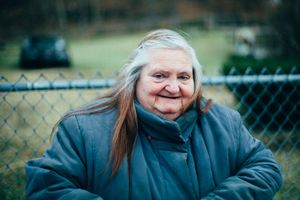 "I'm getting married soon… this coming summer. I've already got my gown and everything. Robert and I met over the Internet, and we've known each other for ten years now. He lives in New York City, so we go back and forth visiting each other. We see each other every other weekend if we can.
The first time we met in person was a little weird. He was born and raised down in New York City, but I didn't know much about the city, so he made dinner reservations. I was so shaky when I first saw him. We had been talking 3 months. I wanted to get to know him a bit more before I met him in person. But boy, I didn't think he'd be that good looking! His pictures didn't do him any justice, not at all.
And the crazy thing is that he's much younger than me… by 20 years. Age is a number, right?"