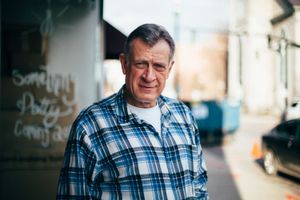 "My story right now has two parts: my job and the people in my life.
I have four beautiful children, three grandkids, and my dad I take care of… he's 86. I take care of him, and get to have dinner with him every night. I'm so lucky. I'm 60 years old, and I love what I do.
I was the city engineer here in Troy for 10 years. Born and raised here, and now I'm back in my engineering business of 28 years. As city engineer, I was responsible for 26 bridges, 10 dams, 7,760 feet of sea wall along the Hudson, 150 miles of road, drainage structures, and buildings here in the city. I love to study the behavior of structures. I love the science of it. It's the combination of math, science, and people. I feel like I've got a little niche that not many people have. It becomes a craft, a trade. I get into it. I'm a mechanic. I design stuff in concrete, steel, and wood. I make things that are useful for people… and they appreciate it. I'm just so lucky."