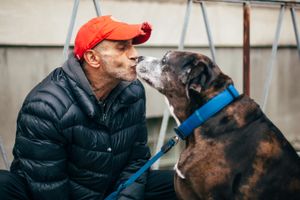 "Six weeks after Katrina, I was living in Manhattan, in the West Village. I was late for a party, but I had to stop at an ATM. I'm rushing, rushing, rushing. I'm about to leave when I hear this whining. I look down and there was this box at my feet. I was such a New Yorker, so focused on what I needed to do that I hadn't even seen it. There's this tiny puppy in the box, sitting right at the edge, looking up at me with these incredible shocking blue eyes. And he's crying. His five sisters were all cuddled up together, sleeping, and he's the only one awake, looking straight at me and crying.
I asked the woman there about him. She tells me this story about how she and her girlfriend had been down in New Orleans when Katrina hit, and they thought they'd wait out the storm; but it got really bad, so they finally decide to leave. As they're driving, they see this dog on the side of the road. She's shaking, about to give birth. So they put her in the car, and she gives birth to this litter in the back seat.
I'd never had a pet before. I didn't know how amazing it would be; but when I heard that story, I knew I had to have him. I took him with me to the party. Carried him on my shoulder. Everyone was fawning over him. And, of course... he peed all down my shirt. At that point, I just knew it was meant to be. Buddy was meant to be my dog.
I was doing a photo shoot for a fashion catalog at the time. I didn't know what to do with him, so I brought him with me. All the girl models and the client freaked out when they saw him... so he got the cover and 5 pages inside. So not only is he a Katrina rescue, he's a supermodel. And he's more famous than me. I was neighbors with Amy Sedaris. Buddy and her bunny Dusty used to sit in the hallway together. One time I heard a commotion in the hallway, so I ran out and… it's Matthew Broderick with Sarah Jessica and the new baby. Sarah had freaked out when she saw Buddy, and Matthew was giving her grief about it because Buddy was just a little puppy at the time.
He's 12 years old now, and he's definitely the greatest joy in my life right now."