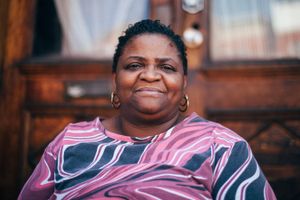 "I worked in the governor's office for years, but that wasn't my passion. My passion is kids. I love education and teaching. I get energy from it. My husband and I opened a new child care facility in an old church in Watervliet. We call it the Church of Miracles, and we've got 100 kids there. I just started the program in November, and things are really starting to pick up.
The last 5 years have been very challenging for me because I've been dealing with children with autism. I hadn't dealt with that as much in the past, but they are such wonderful, intelligent kids. You can't just say: I don't want to deal with these kids in my city. You have to accept them, and then we have to start working with them. There are so many families in need. I see parents get frustrated. No one wants to help them, so they get frustrated and their solution is to throw them in a home. No. I go and visit these kids in facilities, in these long-term programs. They don't come home. They're separated from their parents. It's saddening to me.
I worked with my girlfriend's son for 6 years. I told her, have him checked out; but she said she didn't want to go through all of that. I ran into her a few months ago, and she broke down crying. 'You were so right. I went 3 years without getting him help, and now I can't do anything. I had to leave my job. His father left. What do I do?' I worked with her to help her get into an advocation program to get some equipment that will help her son, and it really changed things for them. Now he's sleeping at night. But it came at a cost: she had to lose her job.
It's hard getting funding and everything, but my goal is to open a center for kids with autism. God's gonna bless me with that this year. Those kids are really so special, but you've really got to get to know them to get that uniqueness out of them."